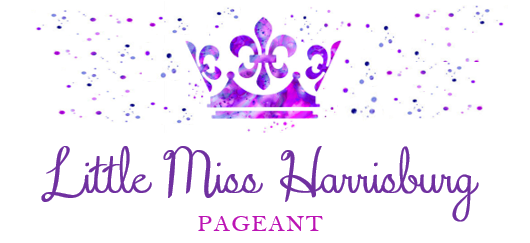 Registration is

CLOSED 

for the 2023 Little Miss Harrisburg Pageant!
Open to girls ages 4-16, with four different categories; Tiny Miss Harrisburg (4-6yr), Little Miss Harrisburg (7-9yr), Junior Miss Harrisburg (10-12yr), and Miss Teen Harrisburg (13-16yr). Contestants must reside within the Harrisburg School District. 
Pictures for each contestant are scheduled for two sessions: 

Monday, May 22nd, from 5-7pm
Tuesday, May 23rd from 4-6pm. 

The pageant rehearsal  is Thursday, June 8th at 6:30 pm.
The pageant date is from 6:00 pm - 8:00 pm, Friday, June 9th, 2022.

Every contestant will leave with a T-shirt and certificate of participation with the 4 winners also receiving a crown and sash.

The parade is on Saturday, June 10th, and all contestants are encouraged to ride along on the Little Miss Harrisburg float if they would like.

 
Registration Fee: $35.00 (cash or check) through May 19, 2023. (If registered after May 19, the fee is $45.00. No registrations accepted after May 28th.) 

Registration fees should be sent and addressed to the attention of The City of Harrisburg, PO Box 26, Harrisburg, SD 57032. 
Previous title holders are not eligible to participate in the same age division; however, if they have moved to a new age division they are welcome to participate in that age group. If you have concerns with the registration fee that would prevent your child from participating, please contact Larry at the City. He can be reached at 605-767-5078 or by email at larry.klipfel@harrisburgsd.gov.